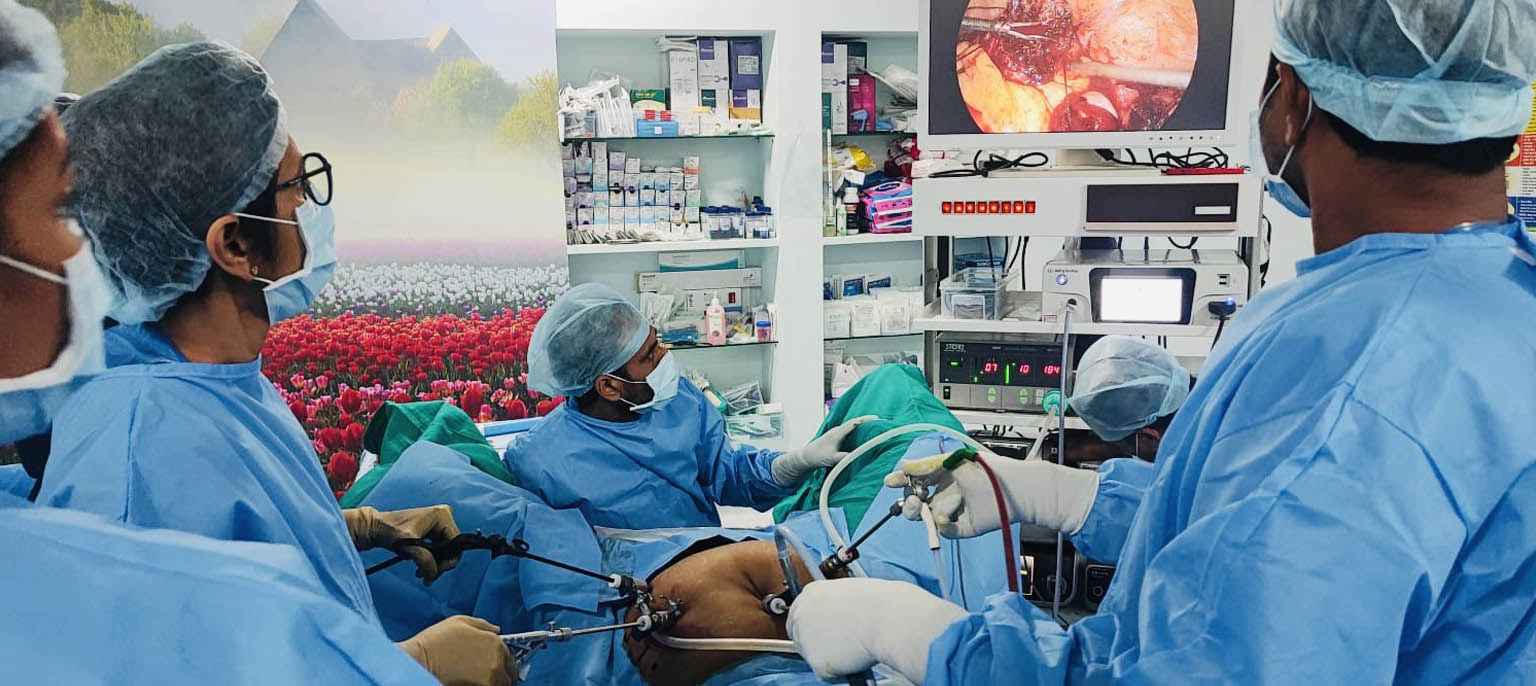 Laparoscopic Surgeries: By The Best Laparoscopic Surgeon In Hyderabad
In today's world where time is highly valued and patients want to get back to their regular routine as fast as possible, the technology of laparoscopic surgeries comes as a god-send gift eliminating many limitations of open surgeries.
laparoscopy is a type of surgical procedure that lets the surgeon do a surgery intra abdominally without opening the abdomen. A few small 5 to 10 millimeter incisions are taken over the abdomen, through which a camera is passed to visualize the internal abdominal organs. The best laparoscopic surgeon in Hyderabad, Dr. T. Rajeshwari Reddy does the surgery with perfection.
Get All The Benefits Of Laparoscopic Surgery In Gynecology In Hyderabad By our well Experienced Team Led By Dr.T.Rajeshwari Reddy.
The advantages of laparoscopic surgery in hyderabad are: smaller incision, better vision of internal organs, precision of surgery,faster recovery, shorter hospital stay,lesser blood loss, lesser pain, lesser medication and faster ambulation.
Patients are able to manage their work all by themselves within about 2 days of surgery. In gynecology almost all surgeries are done laparoscopically. Hysterectomy (removal of uterus), myomectomy (removal of fibroids), ovarian cysts, endometriosis, tubal ligation-tubectomy, tubal recanalisation, ruptured ectopic, uterine prolapse suspension and adhesiolysis are all done through laparoscopic surgery with practically no stitches at all.
The risk of conversion to laparotomy in any procedure depends on the skill and expertise of the surgeon and it is mostly less than 5 percent for an average laparoscopic surgeon. Laparoscopy is definitely a safe method to do surgeries although there is no 100 percent success in any procedure, but the complications are lesser in laparoscopic surgeries compared to open surgeries.
Laparoscopy At Affordable Cost In Hyderabad
The laparoscopy cost in Hyderabad by Dr. T. Rajeshwari Reddy is very reasonable and on par with any other hospital.. You get result-oriented treatment, very high standards of care at a affordable cost.